Supwave Automobile Car Care Centre
219 Jalan Dato Sulaiman,
Century Garden,
80250 Johor Bahru,
Johor, Malaysia.


+607-3325996


+607-3316022


汽車出租


At

SUPWAVE CAR RENTAL

, we offer customised rental programmes to help keep your business travel needs running smoothly and within budget. Whether personal or your company needs one car or a fleet of fifty, we can help you acquire and maintain a fully operational fleet, saving you time and money to handle the most profitable side of your business. Maximise the use of your capital and human resources.

Our well-trained Corporate Sales Consultants take extreme care of your needs and requirements on leisure and business travel. This has granted us positive feedback and compliments from SMEs, Multinational Companies, and Government Agencies. As the National Model Car Rental company, we ensure that our Customers & Corporate Customers receive the highest quality service.
We offer the most comprehensive rental package. With added flexibility to change car models, hassle-free maintenance and most of all, it eases your pockets, giving you more than just a car, but a car packed with excellent service. Our corporate package includes:
1. Choice of all Make and Models (From Saloon car to MPV car)
2. Choice of New or Used Vehicle
3. Unlimited Mileage
4. Full Mechanical Maintenance
5. Replacement Vehicle whenever the original is not operational
6. 24-Hour Breakdown and Towing Service
7. Comprehensive Insurance
8. Road Tax and Radio License
Rental Rates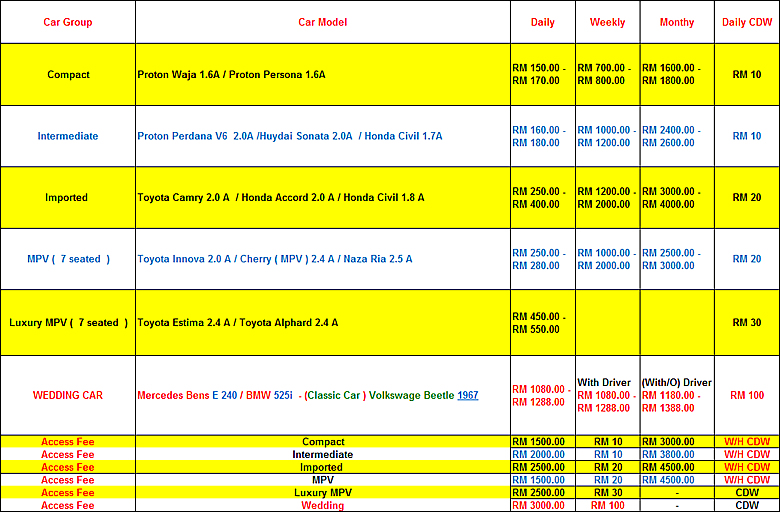 Leasing of Vehicle at Supwave
Our company fully understand that the high costs incurred by corporations or company when purchasing and maintaininga fleet of vehicles.
Supwave
Lease is special designed to give corporations the choices of leasing and NOT buying the vehicles.
Corporations can NOW decide to spend LESS money and cut costs from our service, Leasing a vehicles from us and enjoy many benefits !
SUPWAVE
offers wide ranges of car selection at cost friendly rates budget for daily and long term rental for corporations. Our offers come with good conditions cars, clean cars, fast delivery commitment and a quality of well maintained cars.
SUPWAVE
car rental are focused and wholly committed to provide the excellent services that is today's energetic world of travel, business and leisure!!!
SUPWAVE Lease Benefits :
Improve Cash Flow of the company, additional cash reserves for company operation!
Pay Less Tax and get faster deductions when leasing!
Lease Rental cover all cost (i.e insurance and maintainance of the vehicle)
Leasing of vehicles is cheaper than purchasing a cars!
Increase cost of spare parts and maintainance are all cover by Supwave!
Fixed operation cost. Lease Rental costs are fixed throughout the contract terms!
CHECK OUT FOR OUR CORPORATE RENTAL SPECIALS HERE!! CALL US NOW!!
COMPREHENSIVE RENTAL PACKAGE!
FOR MORE INFORMATION ON PERSONAL & CORPORATE RENTAL,PLEASE E-MAIL US AT enquiry@supwavecar-wash.com.my or CALL US AT 07-332 5996