Supwave Automobile Car Care Centre
219 Jalan Dato Sulaiman,
Century Garden,
80250 Johor Bahru,
Johor, Malaysia.


+607-3325996


+607-3316022

Menzerna Power Gloss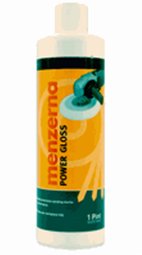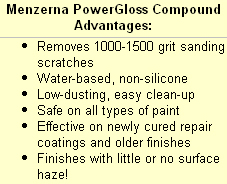 Menzerna Power Gloss Compound is a powerful polishing compound approved for scratch removal on newly cured paint and older paints. This silicone-free, low-dusting compound removes sanding scratches, overspray, and swirls like an aggressive compound but PowerGloss finishes like a car polish!
Menzerna PowerGloss Compound quickly eliminates 1000-1500 grit sanding scratches, swirl marks, and overspray with minimal dusting. It is the most aggressive of Menzerna's polishes, yet it does not require follow up polishing in many cases. (Dark colored vehicles are the exception since they show everything, but even black cars will glow after one or two passes with Menzerna Micro Polish.)
Menzerna Power Gloss Compound finishes like a polish
! That's right, a compound – the heavy hitter in terms of cut – finishes with the gloss and smoothness of a polish. Menzerna is able to do this because of the uniform, specially milled aluminum oxide abrasives that break down under the gradual increase in heat produced by the polisher.
This is what we call a self-refining compound
. Most light colored vehicles will not require subsequent steps to restore gloss. The speed and efficiency of Menzerna makes it particularly attractive to professional detailers and auto refinishers who require results they can count on time and time again.
In fact, Menzerna Power Gloss Compound is not a true compound. Its unique formulation makes it a heavy cutting polish. The distinction is how smoothly Power Gloss finishes compared to typical compounds. A traditional compound has chunky abrasives designed to cut the paint. Power Gloss' nano abrasives polish the paint. Thanks to the quality, size, and number of nano abrasives, Power Gloss is able to give you defect removal like that of a compound, without the heavy compounding swirls.
Menzerna Power Gloss Compound is excellent for restoring aged and weather-beaten paint finishes.
It eliminates scratches on any type of paint, including today's scratch-resistant paints, such as the ceramic clear coat used by Mercedes.
A high concentration of abrasives combined with their uniform size and shape enable Power Gloss Compound to level paint defects using
consistent abrasive action.
The abrasives are not bigger or harder than in a polish. There's simply more abrasives to repeatedly go over the blemish, gradually leveling the paint and then refining it as the abrasives shrink.
Because the abrasives in Menzerna Power Gloss Compound gradually level the paint, this is a very clean compound.
There is minimal dusting and easy clean-up.
Menzerna Power Gloss Compound is a professional polish.
It is designed to achieve the best results with a circular polisher. You can use a dual action polisher, like the
Porter Cable 7424XP
, but it will require a longer working time.
Enjoy a faster, more effective compound with the ability to cut without causing haze. Menzerna Power Gloss Compound eliminates 1000-1500 grit sanding scratches, overspray, and swirls on all types of paint like a compound but finishes like a polish.