Supwave Automobile Car Care Centre
219 Jalan Dato Sulaiman,
Century Garden,
80250 Johor Bahru,
Johor, Malaysia.


+607-3325996


+607-3316022

Menzerna Polish PO85RD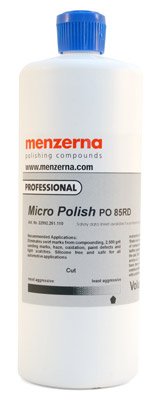 Menzerna Polish PO85RD is the first polish developed by Menzerna for the scratch-resistant, ceramic clear coats. The fine grade finishing polish removes 2500 grit sanding marks from the paint and eliminates compounding haze to leave the paint looking smooth and shiny. Menzerna Polish PO85RD is very hard to find in the U.S. but we have obtained a small quantity due to customer demand. Try it before it¡¯s gone!


Menzerna Polish PO85RD is one of Menzerna¡¯s Professional Line car polishes formulated specifically for assembly line use. Mercedes Benz of Germany uses Menzerna polishes on their brand new vehicles to remove overspray and refine the newly cured paint finishes. Now body shops and enthusiasts can use Menzerna Polish PO85RD to achieve a new car gloss!


Menzerna Polish PO85RD is made with a very finely ground abrasive powder that leaves no marring or surface haze.
Though designed for fresh OEM coatings, Menzerna Polish PO85RD can be used as a gloss-enhancing polish or finishing polish on older paint finishes. It will eliminate compounding marks and prepare the paint for wax or sealant. (We highly recommend
Wolfgang Deep Gloss Paint Sealant.
The water-based formula is compatible with the Menzerna line and leaves the paint with a gorgeous gloss.)
Menzerna Polish PO85RD is body and paint shop safe. It contains no waxes, glazes, or silicones.
Apply Menzerna Polish PO85RD with a dual action or rotary (circular) polisher for the best cutting power. For gloss enhancement, Menzerna Polish PO85RD can be applied by hand.